This Is Why Olympus Is the Right Strategy for You
Olympus combines simple investment concepts and fundamental rationales, with leading technology.
Its focus is black swan, or the intention to benefit from extreme down movements in the US equity markets.
Using a diverse pool of quantitative, absolute return investments strategies focused on highly liquid instruments and intraday trading, Olympus can statistically lift total portfolio value over time by providing a true hedge during times of high volatility, liquidy erosion, and falling equity prices.
This means it could balance a portfolio in a down market, providing psychological protection, and provide the piece-of-mind that the balance can statistically lift the entire portfolio for a longer period.
Olympus risk controls lean on its simplicity. When the market has high volatility, particularly large decline, Olympus is positioned to gain. At the same time, it institutes controls to ensure it protects capital in bull market periods.
Hedge Fund Manager
Olympus Is Managed by Dr. Ernest Chan
Dr. Ernie Chan's career since 1994 has been focusing on the development of statistical models and advanced computer algorithms to find patterns and trends in large quantities of data.
Ernie spearheaded IBM's research effort to develop a system for searching large text databases, catapulting IBM's reputation to a top player in the field. At the Artificial Intelligence and Data Mining group in Morgan Stanley's headquarter in New York, Ernie pioneered the application of some of these sophisticated statistical algorithms to the complex task of extracting customer relationships in the Morgan Stanley customer accounts database.
He was a proprietary trader and quantitative researcher at Credit Suisse in New York in 1998, a senior quantitative analyst at Mapleridge Capital Management Corp. in 2002, and a senior quantitative analyst and trader at Maple Financial in 2003. He co-founded EXP Capital Management, LLC, a Chicago-based fund management company in 2008. He founded QTS Capital Management, LLC. in 2011.
"It will have a large gain when the market goes into a tailspin and it will do nothing or lose a small insurance cost during peaceful periods. The best way to understand it is as an insurance policy. Olympus is insurance against market meltdown."

Dr. Ernest Chan
Hedge Fund Manager @ CARL Olympus, LLC
GET STARTED
3 Easy Steps to Invest in Our Olympus Strategy
Investing in our Olympus hedge fund strategy is pretty simple: just create an account, add the strategy to your portfolio and on the next funding cycle you're in.
Set Up Your Account
Quickly and securely connect your CARL account to your bank and transfer investment funds.
Analyze Investments
Using the tools within the CARL app, determine which strategies at what allocations are right for your investment goals.
Fund Your Investment
Simply save your portfolio settings and on the next strategy funding cycle your investment will be live!
What Investors Say About CARL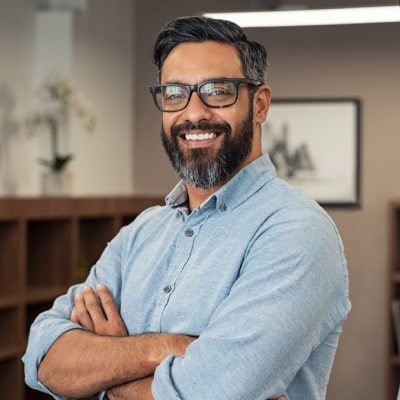 "I didn't know investments like this existed before finding CARL, and I guess they didn't for regular investors until now. It provides so many more options, I can now manage my own hedge fund portfolio, diversify my investments and I have the potential to earn a return regardless of market direction."
Chris
CFO, Michigan
OUR STRATEGIES
Besides Olympus We Also Offer Other Types of Strategies
Combining flexibility and versatility, quant hedge funds are the perfect opportunity to cover all your bases. By exposing your portfolio to non-traditional asset classes besides traditional revenue areas like the stock market or real estate, you can gain lucrative benefits, especially in volatile markets. Whether you have years of experience as an investor or you're looking for new investment opportunities – CARL is your ticket to investment success.
If you have any further questions about hedge fund investing opportunities, our Olympus strategy or about CARL in general, please do not hesitate to contact us.