This Is Why Denali Is the Right Strategy for You
Denali takes simple investment theory and puts it to work in sophisticated algorithms, taking into account vast amounts of data.
A long-only strategy, Denali seeks to gain opportunities in the market with the simplicity that if an investment doesn't perform it is removed.
The overall goal is to profit from trends and to eliminate behavioral bias inherent in stock investing, to have systems invest "by the numbers" with a singular focus on gains and risk management.
This makes for simple risk controls implemented within sophisticated systems as well, Denali removes investments going down expediently, historically reducing risk while increasing gains.
Overall, Denali uses big data analysis and the removal of human emotion from the investment process to meet its intended goal of beating the market regardless of market conditions.

HEDGE FUND MANAGER
Marcos Bueno - The Manager Behind Our Denali Hedge Fund Strategy
Marcos Bueno is the founder and CIO of Ascent Systematic Advisors LLC. Previously, he was the CIO at Argon Capital Management, Partner and Senior Portfolio Manager at the London office of Graham Capital, Portfolio Manager at JPMorgan's proprietary trading desk, and he also worked at Goldman Sachs in the Multi-asset derivatives structuring and in the Power & Gas M&A teams. Mr. Bueno obtained an MBA with Honors from The Wharton School, holds an MS in Economics and Applied Mathematics from Ecole Polytechnique in France, and a BS and MS in Industrial Engineering from UPM in Spain. He is a marathoner and former national level competitive track & field athlete.
"The number one thing I want to make sure of is that the models are not going to own anything that is going down. That is hard-coded. It is never going to happen. Denali doesn't care about the market as a whole. It only cares about finding opportunities that meet the criteria for capital deployment. It is a very conservative approach. The bar that we need to clear to put money to work is very high."

Marcos Bueno
Hedge Fund Manager @ CARL Denali, LLC
GET STARTED
3 Easy Steps to Invest in Our Denali Quant Fund Strategy
Investing in our Denali hedge fund strategy is pretty simple: just create an account, add the strategy to your portfolio and on the next funding cycle you're in.
Set Up Your Account
Quickly and securely connect your CARL account to your bank and transfer investment funds.
Analyze Investments
Using the tools within the CARL app, determine which strategies at what allocations are right for your investment goals.
Fund Your Investment
Simply save your portfolio settings and on the next strategy funding cycle your investment will be live!
What Investors Say About CARL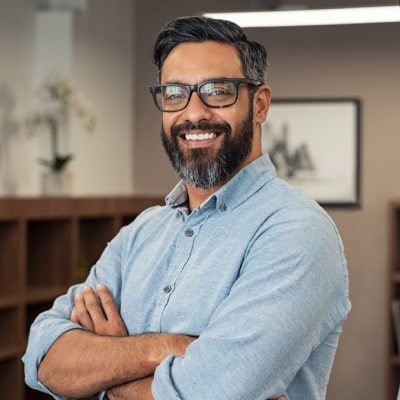 "I didn't know investments like this existed before finding CARL, and I guess they didn't for regular investors until now. It provides so many more options, I can now manage my own hedge fund portfolio, diversify my investments and I have the potential to earn a return regardless of market direction."
Chris
CFO, Michigan
OUR STRATEGIES
Besides Denali We Also Offer Other Types of Strategies
Combining flexibility and versatility, quant hedge funds are the perfect opportunity to cover all your bases. By exposing your portfolio to non-traditional asset classes besides traditional revenue areas like the stock market or real estate, you can gain lucrative benefits, especially in volatile markets. Whether you have years of experience as an investor or you're looking for new investment opportunities – CARL is your ticket to investment success.